Located in one of the premier recreational locations in Southwest Colorado, the historical property of Buckhorn Lodge was built in 1959 and represents a deep history of recreation and enjoyment of the land. The Buckhorn Lodge encompasses 45± acres and is located six miles away from Groundhog Reservoir and is connected to miles of off-road trails. Buckhorn Lodge falls inside the county of Dolores and is accessible by County Road 31. The property is on the corner of three hunting units allowing hunting access to units 711, 70, and 71. All three units are primarily public property, the lowest unit percentage being 711 at 63% publicly owned, and the highest being 71 at 81% publicly owned. Buckhorn Lodge offers four surface ponds measuring approximately 2.17± acres of surface water on the property. Disappointment Creek runs through the property and the deck of the lodge overlooks the beautiful Disappointment Valley. The property is approximately an hour's drive to the towns of Cortez, Dolores, and Telluride.
The property itself has seven cabins, a 2,586± square foot main lodge, a 740± square foot recreation building, an 80± square-foot horse barn, and a 458± square foot storage building. The property has a well, electric, three septic tanks, its own propane tanks, and a 5,000-gallon cistern tank. Buckhorn Lodge is a recreation and hunter's haven that is full of development potential.
Address:
4272 Road 31
Redvale, Colorado
81431
Other Features:
Several Cabins, Recreation Building, Horse Barn, Storage Building
Listing Agent:
Seth Craft, Broker Associate (970) 787-0864
Request more information about this Ranch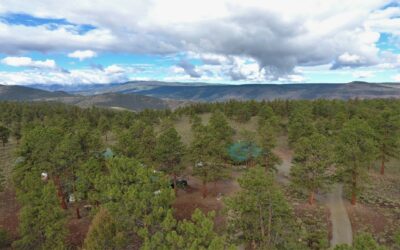 The Ghostwalker Ranch is a beautiful off-grid property that will accommodate you and your guests, giving each their own space. Tucked away in the Ponderosa Pines on 40± acres with outstanding views of Uncompahgre Peak, giving you plenty of space to explore.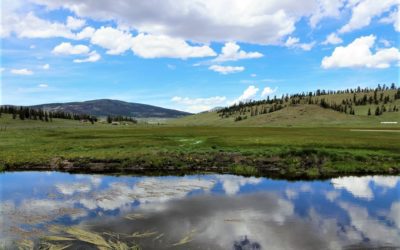 Los Creek Ranch lies in one of Colorado's largest public lands playgrounds, with few people playing in it. Located South East of Gunnison and North West of Saguache, this portion of the Gunnison National Forest and the La Garita Peaks is a true sportsman's wish come true.