Hunting on private land is common in the western U.S. There are millions of acres of private property, including ranches and farms, to hunt elk, mule deer, antelope and more. Avid hunters, property owners, and entrepreneurs may seek out hunting land for sale, but it's important to understand the laws and regulations in states such as Colorado and New Mexico.
Here are a few common questions pertaining to private big game hunting and hunting on private land in general:
Do You Need a Hunting License to Hunt on Private Land?
In Colorado, limited licenses are distributed for big game hunting. Big game licenses are limited to a specific unit and hunting season. They are distributed through a license application and drawing processed managed by Colorado Parks & Wildlife. Private-land-only licenses can be applied for with special permission from a landowner.
New Mexico law requires hunters to obtain private-land licenses 14 days in advance of the start of a hunt. This allows time for licenses and tags to be mailed to the customer's address. Deer and elk hunters may obtain an E-Tag, although they cannot switch from a paper document to the electronic version later, as noted by the New Mexico Department of Game & Fish.
Do I Need Permission to Hunt on Private Land?
While Colorado landowners are given preference in obtaining hunting licenses, all others must acquire permission from the landowner. It is also forbidden to pursue wounded wildlife onto private property unless there's a reasonable attempt to notify the owner. However, hunters are required to attempt recovery while on the property.
Hunters in New Mexico must obtain written permission from a landowner first. Serious penalties can be incurred for being present after permission has been denied or revoked. Hunting, capturing, or taking or attempting to take a protected species on private property without permission is considered criminal activity. In Colorado, violations are considered misdemeanors, punishable by fines, loss of hunting privileges, or jail time.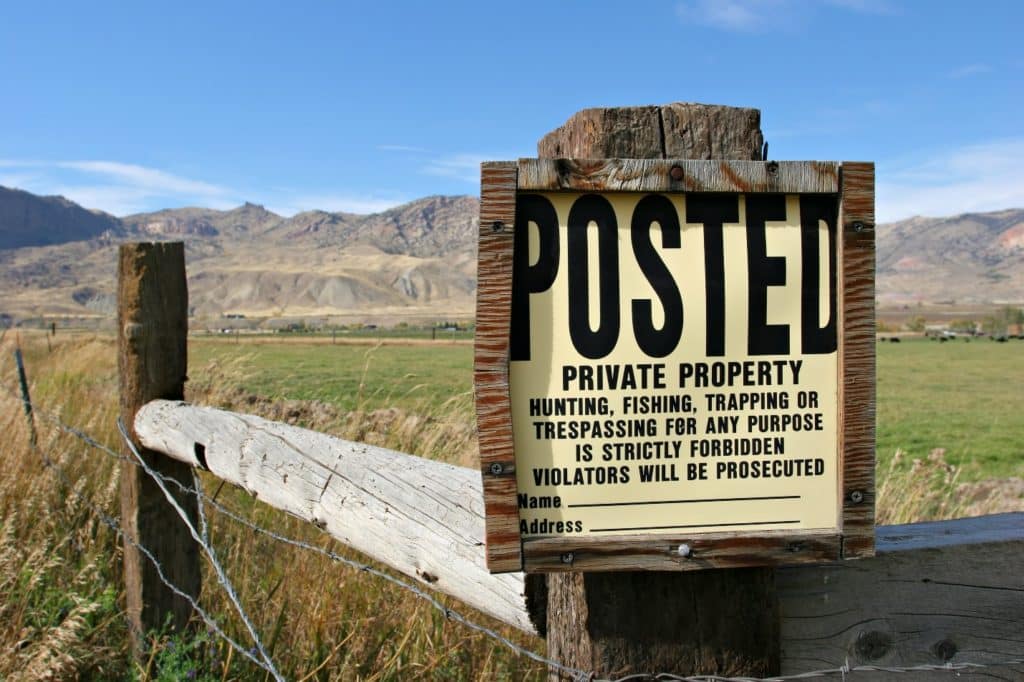 How Can I Hunt on Private Land?
The license distribution process is managed at the state level. For hunting private land in Colorado, vouchers are issued to landowners based on the draw for licenses to be allocated. Hunters are also expected to use reasonable means to hunt. In general, you are not permitted to hunt from a motor vehicle or aircraft, while artificial light, night vision and thermal imaging equipment, explosives, poisons, or edible waste (to lure bears) are prohibited.
The state has several programs for hunting private land in New Mexico. These include the Antelope Private Lands Use System that lets hunters use private property in season; in return, ranchers gain use of public lands. The Open Gate program enables landowners to voluntary allow public access to their land for specified activities, which can be accessible to licensed hunters.
Hunting Land for Sale in Colorado and New Mexico
Investors or hunters looking for premium properties can find quality hunting and fishing ranches with M4 Ranch Group. Our team also offers solutions regarding conservation, water rights, and landowner preference, while accommodating those who enjoy hunting in Colorado or New Mexico. For more information on our services and available properties, call 970-944-4444, email ranches@nullm4ranchgroup.com, or contact us on the web.