Black Canyon Ranch Overlook is a 430± acre parcel adjoining National Forest with year-round access and outstanding views. The ranch is a good hunting property with species of deer, elk, bear, and turkey. Hunting licenses for this area are not hard to get. The Black Canyon Ranch Overlook ranch has multiple decreed springs and is covered by oak brush, aspen, and serviceberry bushes. No improvements on the ranch but great possibilities for an off-grid cabin.
This Ranch is a hunter's dream; the 430 acres of diverse terrain and vegetation with lush feed make wildlife attractant as you have never seen before. Situated just above Black Mesa and backing up to Gunnison National Forest which is historically known for producing Huge Mule deer and great quality elk herds this ranch has all the makings between the access to over 1 million acres of public ground/ national park and the numerous meadows for the wildlife. Bordering over 36k acres of national park this ranch turns into an elk Mecca with the haven next door. Numerous water supplies between creeks and springs throughout the ranch.
The ranch is located off Highway 92, near the towns of Cimarron, Montrose, and Crawford. The Black Canyon of the Gunnison and Blue Mesa Reservoir is close to the ranch providing quality fishing and water recreation opportunities.
Address:
tbd Hwy. 92
Crawford, Colorado
81415
Listing Agent:
Seth Craft, Broker Associate (970) 787-0864
Request more information about this Ranch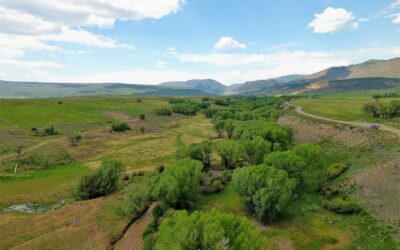 Sitting 22 miles east of Montrose, Colorado near Blue Mesa Reservoir is the Little Cimarron Ranch. The Little Cimarron Creek transverses throughout the ranch's borders. Encompassing 65± acres with a varied topography of meadowed bottoms, giant old-growth cottonwoods, and pine trees.