Brokering Ranch Properties
for over 40 years
At M4 Ranch Group, clients receive personalized and dedicated expertise that extends beyond the property closing.
Our team brings knowledge, perspective, and creative solutions to critical aspects of land ownership needed to maximize investment in ranch property, including water rights, conservation easements, landowner preference, and habitat restoration.
No matter what type of ranch you are looking for, our team can help find the property best suited for you.
Our Team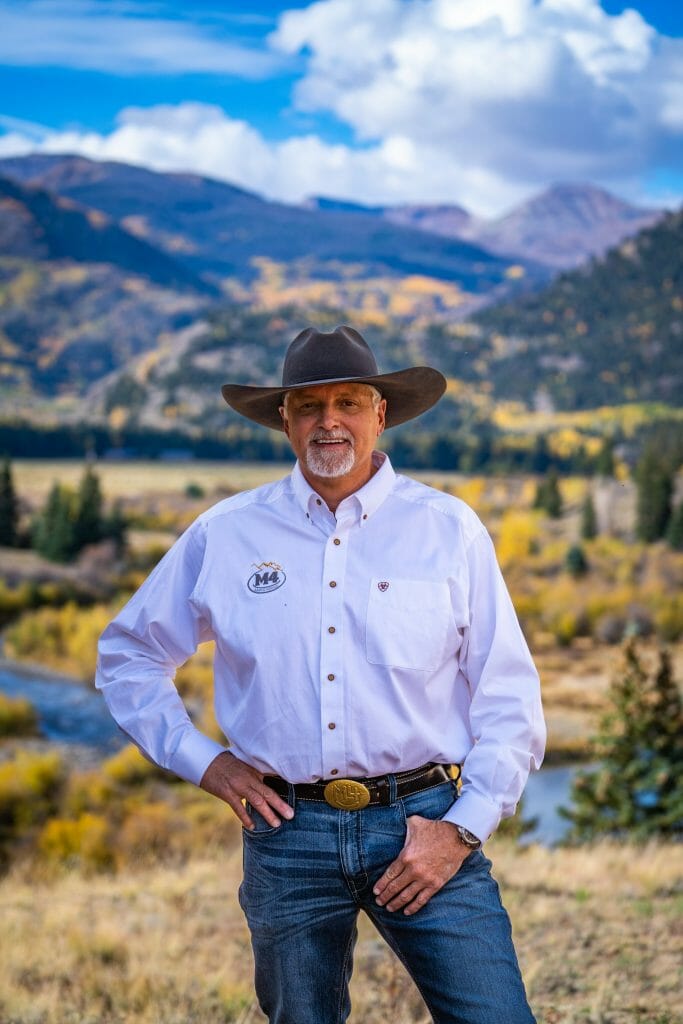 Dan Murphy, ALC
// LICENSED IN COLORADO, NEW MEXICO, WYOMING
Dan Murphy, ALC (Accredited Land Consultant), Broker, Partner, has called the mountain west home his entire adult life. Dan's extensive and diverse business experience reveals a track record of success. His service on numerous organizational boards throughout the mountain region demonstrates a commitment to improving communities through an applied, big-picture perspective. He has served on the Colorado DOW's Big Game Allocation Program (BGLAP), the Colorado Wildlife Federation Board of Directors, the Colorado Outfitters Association, the Colorado Parks and Wildlife Commission Advisory Board, and is a founder of Sportsmen for Wildlife Conservation.
Dan has dedicated much time and effort building relationships within Realtor Land Institute, serving as Colorado President in 2021- 2022 (National Chapter of the Year), and currently sitting as National RLI Vice President in 2022-2023 to over 2,100 of the top land agents across the country. Dan will go on to then serve as National RLI President.
Dan shows enthusiasm and advocacy for life through experiencing the wonders of the great outdoors and consistently pursuing professional and recreational life experiences. His quest for adventure and commitment to integrity is apparent to those who know him. He has a lifetime of business experience starting with owning restaurants and a bakery at 16, then as time passed, a guest resort, as well as owning and operating a respected outfitting business in Colorado, Montana, Alaska, and Texas for over twenty years. Dan's depth of experience and defined passions run far and wide. All of these life passions, dogged work ethic, and professional experiences have led to the vision, and development of his team's current ownership of a Nationally Recognized real estate firm, M4 Ranch Group, specializing in ranches, hunting, and recreation properties.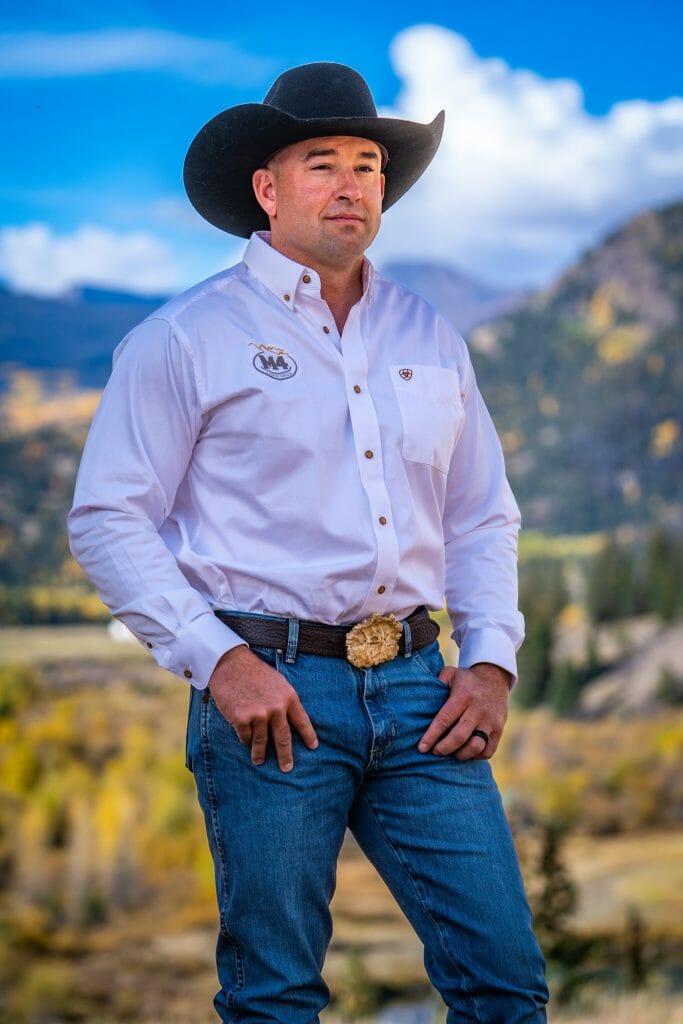 Seth Craft, ALC
// LICENSED IN COLORADO, NEW MEXICO, WYOMING
Seth grew up chasing elk and deer in the Cascades of Oregon. A hugely accomplished big game hunter, Seth has a passion for sheep, mule deer, and elk. A Colorado guide for Mossback Outfitters, he knows big deer and spends a lot of the fall searching for Monster Mule Deer.
In early 2000 he joined the Marine Corps at an early age of 17 and finished out the remainder of his time in a Close Quarter Battle team. Seth worked as a Lineman for thirteen years, part of that time was spent doing storm work along the west coast. He is no stranger to hard work and has shown that he is most comfortable outdoors. Chasing his passions, he found a great fit learning the ranch and real estate profession. Seth has become one of the top producers of premier properties in Colorado, Wyoming, and New Mexico.
Seth has been recognized multiple times by the REALTORS Land Institute (RLI), the leading association for the land industry. Seth's recognitions include being among the top 5% in production for land REALTORS across the entire country with an average of 50 premier ranch sales a year for the last 4 years.
Seth offers dedication and commitment to all that he is involved in. Married for 19 years, his wife and two children are his greatest gift. Living in Montrose, Colorado, he gets to share his passion for the outdoors and love for hunting with his family.
With years of ranch and hunting experience, Seth has been successful in building perfect ranches for his clientele and has the tenacity to push on and deliver every time. Seth knows the honey holes from Colorado to New Mexico to Wyoming and can undoubtedly assemble your dream ranch.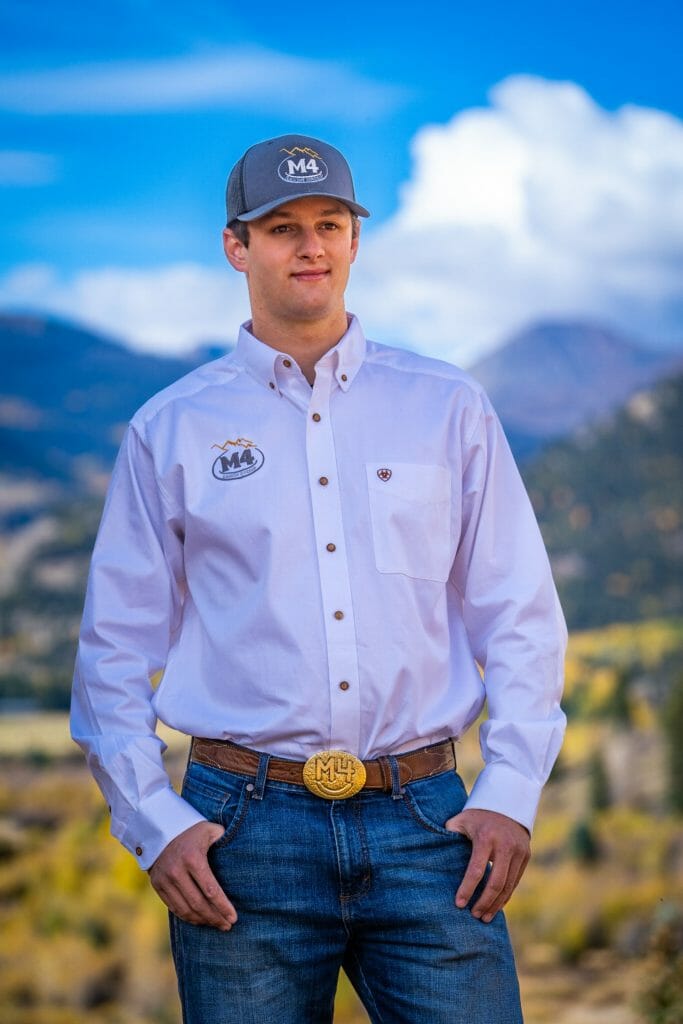 Jake Murphy, ALC
// LICENSED IN COLORADO
Jake Murphy literally grew up at the base of 14,000-foot peaks in his family home that sits at 9,000' in the small mountain town of Lake City, Colorado. Raised in the outfitting industry, Jake guided hunters in Texas, Colorado, Montana, then north to Alaska. He is no stranger to time in the field. Being a Murphy left Jake little option – spending a great deal of time on ranches, river projects, habitat restoration, and learning the art of the deal. These experiences have set a deep appreciation and passion for Real Estate and the opportunity to build relationships with clients and the land.
Starting his first business at the young age of 12, Jake has always strived to rise above. With a passion for long-distance running as an all-state high school and collegiate athlete, he lived the definition of running rivers, running through mountain peaks, and running after elk and mule deer. This passion, led Jake to discovering another passion, serving people.
Jake used his passions to serve to his community while teaching others the importance of the Western lifestyle. He spent 3 years as a Class V white water guide, led wilderness adventure/backpacking trips in the mountain west, and was a running coach for Team Prep USA – a running camp for America's top athletes, including Olympic athletes. Jake also served as an elite high rope search and rescue member for Western Colorado University and attained his Wilderness First Responder certification.
It did not take Jake long to find all his experiences could be beneficial for the family business. Like he always has, Jake hit the ground running in his career and has not slowed down. Outside of his passions and ranches, Jake enjoys traveling with his friends and family, including his wife, Brittany Hurdle Murphy. If you are looking for a true professional with a unique understanding of the land and passion for the Mountain West, you can be sure you are in knowledgeable, hard-working hands with Jake Murphy.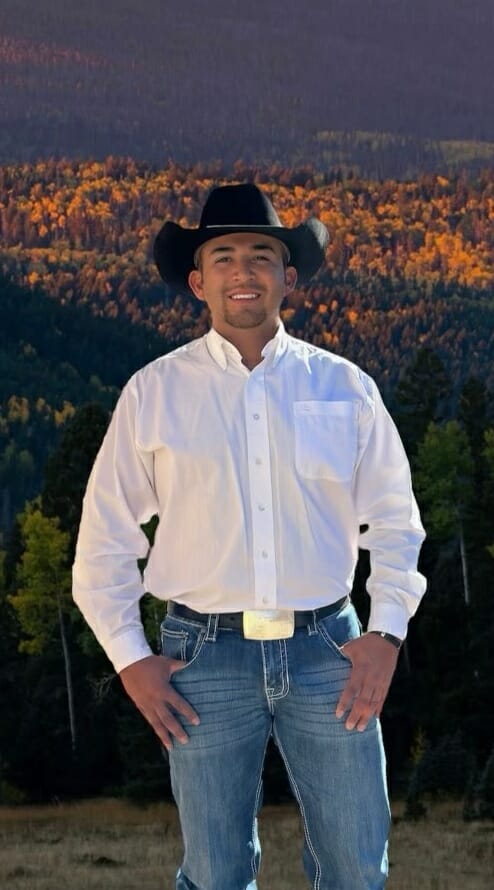 Dominic Serna
// LICENSED IN New mexico
Dominic Serna is a passionate Associate Broker based in New Mexico. He was born and raised in Northern New Mexico and has had a lifelong affinity for the outdoors, hunting, fly fishing, and exploring the backcountry of the Pecos Wilderness. Through his many years working in the local area, Dominic has developed a wealth of knowledge when it comes to ranch land, big game hunting, ranch improvements, timber management, and dirt work/building ranch roads.
At 13 years old Dominic began working on ranches across New Mexico. During this time, he developed an understanding of land management as well as improved ways to maximize potential investments in ranch properties. Additionally, Dominic has a wealth of experience creating fish habitat/ lake pond and stream improvements, timber management, dirt work/ building ranch roads. With his comprehensive skillset, he has been able to help his clients find quality properties.
Dominic is also experienced with improving Elk, Mule Deer, antelope, and cattle production ranches. He has been able to develop mutually beneficial relationships between hunters and landowners that create a more sustainable environment for wildlife while still allowing for financial gain from big game hunting opportunities.
He is an experienced land management specialist who is avid about helping clients get the most out of their land investments. Dominic's goal is to help maximize his clients' potential with their land investments by utilizing his knowledge and expertise in the field.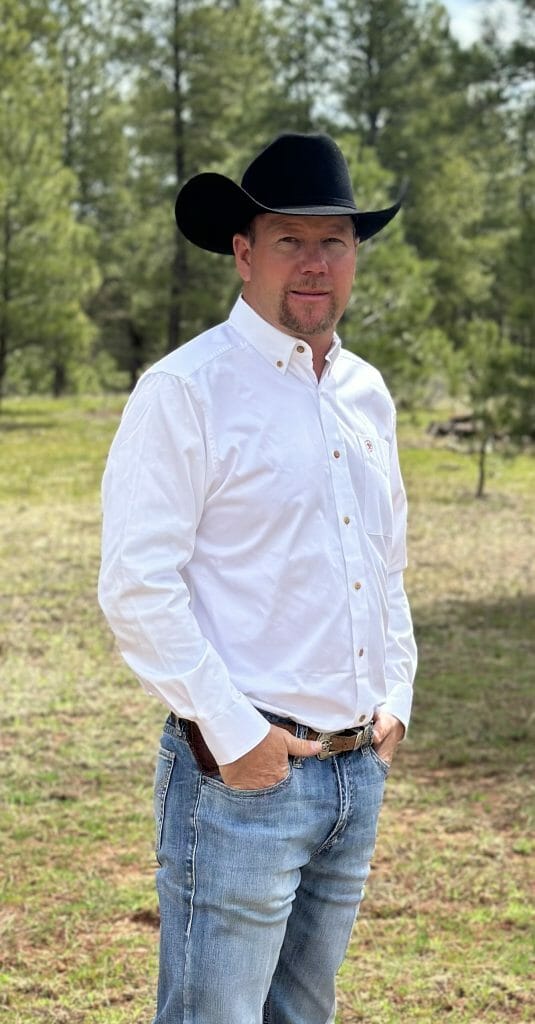 Butch porter
// LICENSED IN New mexico
Butch Porter is an associate broker with M4 Ranch Group. Born and raised on a working cattle ranch in New Mexico he learned early the value and appreciation of the land around him, horsemanship and the operations necessary to make a cattle ranch successful. As a teen his passion for hunting and the outdoors began and initiated the the next 20 years in developing the experience to become a professional hunter.
Hunting all over the southwest has given him the opportunity to harvest many trophy big game animals in the best Elk and deer country God put on this earth. His vast hunting experience led Butch to become an Outfitter in New Mexico and Colorado which allowed him to work with other sportsman that share a passion for hunting big game in the southwest.
Combining his experience with ranch life, hunting and a true passion for the outdoors, He then put this his knowledge and experience to work in applying himself to Ranch Management, successfully building and managing some of the best big game hunting ranches in New Mexico.
Butch's life is immersed in the outdoors and as a Father and husband he has been able to share this passion and experience with his family thereby continuing the legacy with his belief that "We are to be good stewards of the land". Through this leadership he has infused within his family the importance and value of life in the outdoors in addition to the necessity of hard work and perseverance.
Butch works to apply his experience, knowledge, passion and work ethic into every aspect of his life and career. As an associate ranch broker he truly enjoys the unique experience of building relationships and interacting with the people he works with and sharing with them the experience of being part of some of the most incredible country throughout the mountain west.
Butch has successfully applied his unique lifetime experience in ranching, outfitting and ranch management to his career as a dedicated ranch broker excelling in the representation of superb ranch properties. Through his dedication he has earned the respect and friendships of many clients and peers as well as being an award winning ranch broker. He continues to excel and strives to be one of the best in the industry.
Michelle Murphy
// LICENSED IN colorado
Michelle Murphy, Co-owner, is a lifetime resident of the mountain west. With a master's degree in business and marketing, she brings a practical and dogged tenacity to the M4 Brand. Michelle has built her life through hard work and determination. A true hard-working Murphy, Michelle owned and operated a successful Guest Resort in Lake City for 18 years, and a hunting/fishing outfitting business taking clients into the backcountry of Colorado, Montana, Texas, and Alaska for 20 years. She and Dan started Team Murphy Realty in 2004, then M4 Ranch Group in 2017. Michelle brings a unique and outstanding talent to business – the accountant with an artistic touch. M4 Ranch Group's incredible success is in part due to the incredible attention Michelle gives contracts, and the dynamic graphics and design seen in all aspects of the print and digital world that she generates.
Michelle is passionate about her two incredible kids, rodeoing with her daughter or rafting with her son. She has served her community as an EMT for 32 years and has been an instructor for NOLS for 23 years. Michelle's passions and enthusiasm run deep for whatever she is involved in.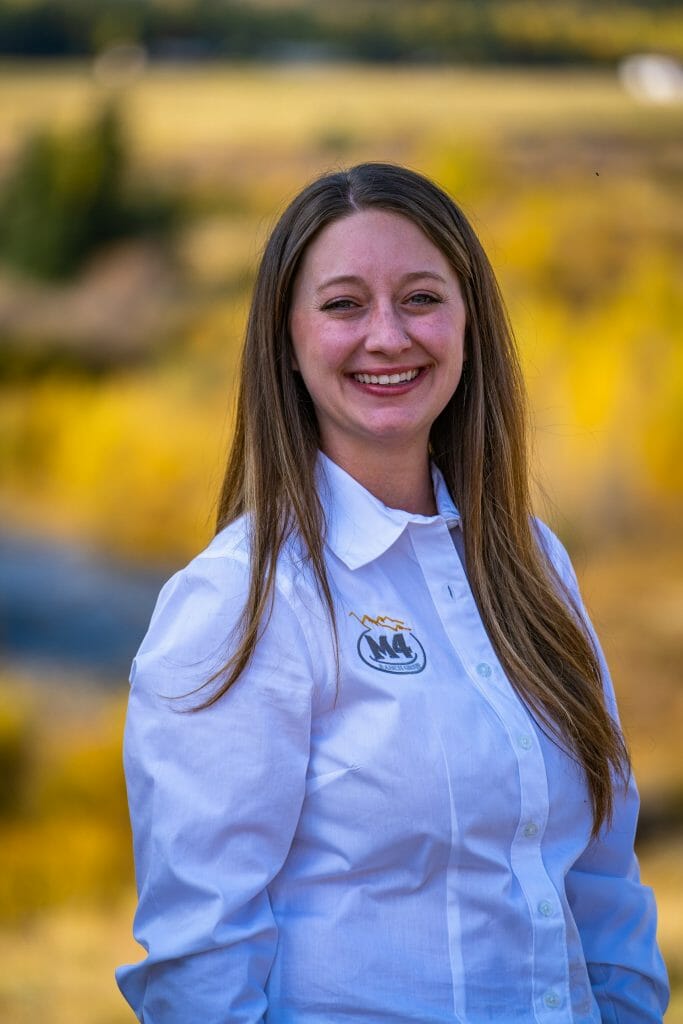 Taylor Lear
// executive assistant
Taylor was born and raised in Texas but fell in love with the mountains early on. Spending as many summers as possible working at camps in Colorado, she finally made Lake City her home in 2016. Taylor graduated from Texas Tech University in 2012 and jumped into a career working with kids as a director for a children's ministry program. A deep love for camp ministry led her to Lake City where she worked as an Administrative Assistant and Retreat Coordinator. Finding that she enjoyed organization, development, and supporting people, she found a great fit with the growing M4 Ranch Group team. Taylor joined M4 Ranch Group in 2019 and manages and coordinates showings. She helps our M4 Ranch Group team stay organized and is a vital asset to us. She soon brought along her daughter, Sawyer, who is known around the office as the "M4 Mascot." Taylor has been involved in Young Life for many years and has volunteered as a local Young Life leader in Lake City for the last four years. She and her husband enjoy chasing around their daughter Sawyer and adventurous pup, Bonnie. They appreciate any opportunity to play outside love that Colorado has become home.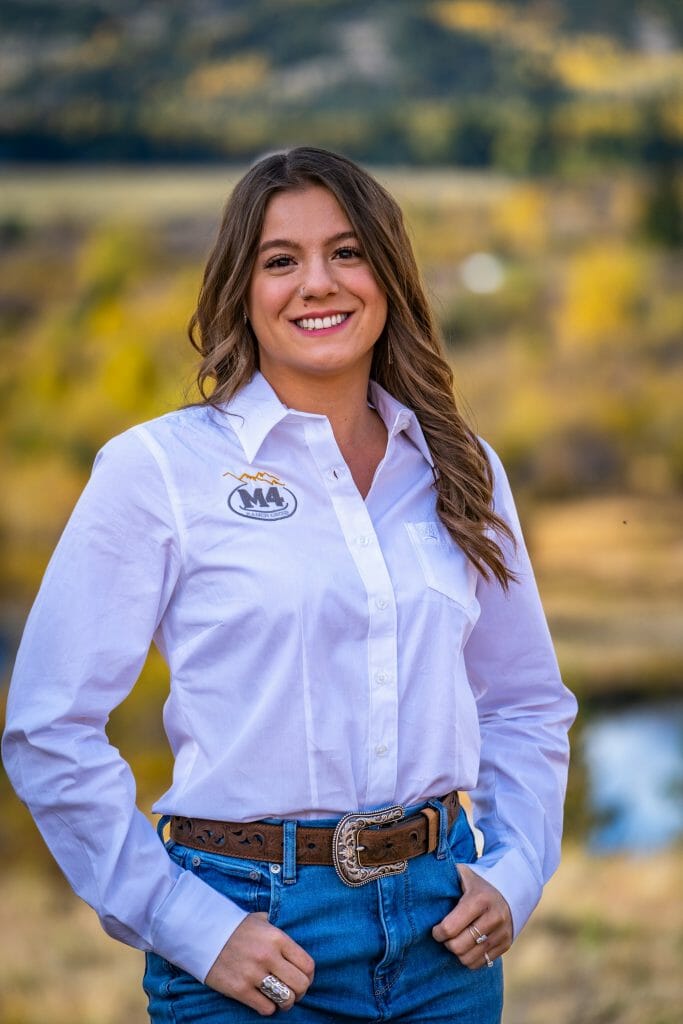 Lauren long
// Research analyst
Lauren is originally from San Antonio, Texas and moved with her family to Lake City, Colorado in 2007. She and her family lived and worked at Camp Redcloud, a Christian summer camp, where a majority of Lauren's days were spent with the counselors and kids. She loved helping in the camp kitchen and at the barn working with the wranglers and 70± horses. Growing up in the most remote county in the lower 48 states gave her a lot of time to spend immersed in nature, where she learned to love the land, the wildlife, the slower lifestyle, and the sense of responsibility that comes with it, all of which has created her outstanding work ethic and drive.
Lauren has worked in the hospitality and service industry throughout Lake City and Gunnison, giving her a great perspective and knowledge of customer relationships and quick problem-solving. Lauren loves Colorado and is avid about getting outside to explore the world around her with her friends and family.
Having known the Murphy's most of her life, Lauren was thrilled at the opportunity to start a career here at M4 and once again be integrated into their lives. She believes there is nothing quite like immersing in her work which helps M4 protect it for future generations to enjoy. Lauren acts as M4's research analyst, she has taken on many roles including researching land records, finding that perfect fit property, analysing data to identify trends and opportunities, and examining and validating the accuracy of the data to ensure that it produces meaningful information.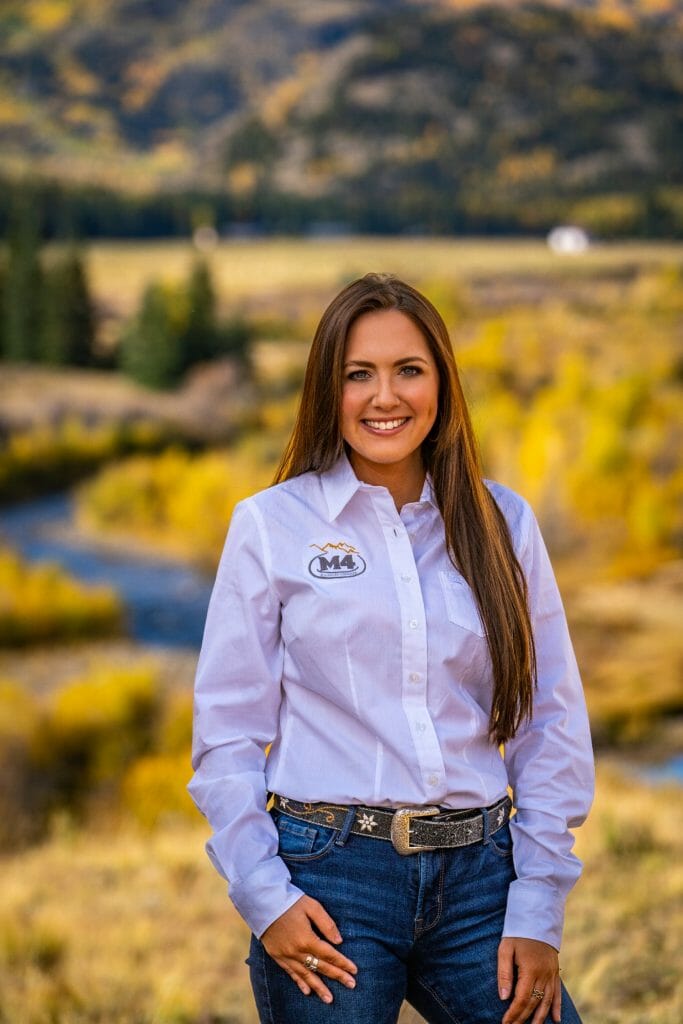 Brittany Hurdle Murphy, ALC
// Marketing Director
Brittany Hurdle is a Marketing Director and Land Broker at M4 Ranch Group with a focus on serving national homebuilder land acquisition managers, as well as national trucking companies with remote truck yards. Brittany's analytical and creative sides unite to puzzle-piece deals together between her buyers and sellers, these assets have already solidified a strong name for herself in the development world after only five years.
Most recently, Brittany started using her development knowledge to help vacation rental/short-term rental owners find the right land for their unique projects, which has led her to get her license in various states to ensure smooth experiences for her clients.
Brittany's love for all things real estate started during her childhood with taking listing magazines from the grocery stores and pretending to be a Realtor selling her friend's imaginary houses when they were playing house. Coupled with her family history in land acquisitions, sales and note development, it was undeniable Brittany was meant to be a real estate broker.
Originally from Nashville, Tennessee, Brittany now calls Lake City, Colorado home with her husband, Jake Murphy. She is a very active member of the Realtors Land Institute, having received the 2020 Chapter Administrator of the Year Award and the 2022 Land Rising Star Award, and is also a member of CREW Network. A graduate of Middle Tennessee State University, Brittany was named the 2018 Woman of the Year by The Wilson Post. When she is not busy with land, she is obsessing over her labradoodle, Shug, at a concert, or spending time with friends and family.
With Brittany's change in altitude comes a unique opportunity for M4 Ranch Group. Brittany's organizational skills, certifications and professional footprint bring an element to M4 Ranch Group, and a huge opportunity to expand on western experiences.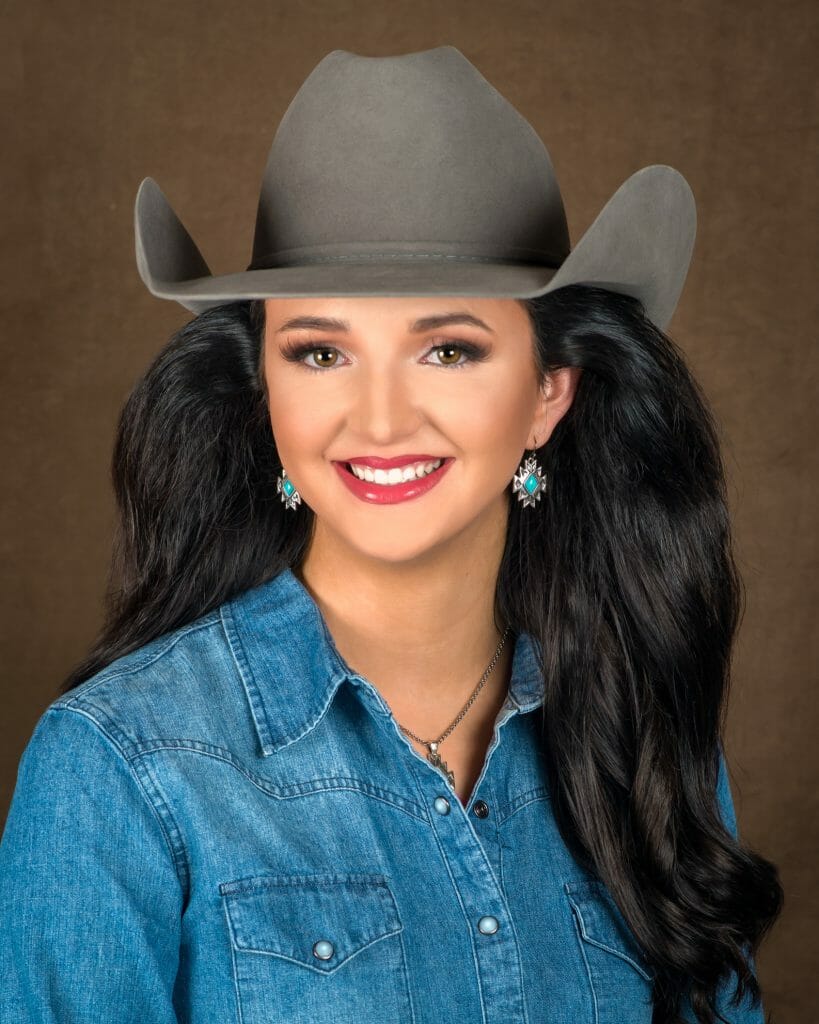 ky murphy
// Sponsorship coordinator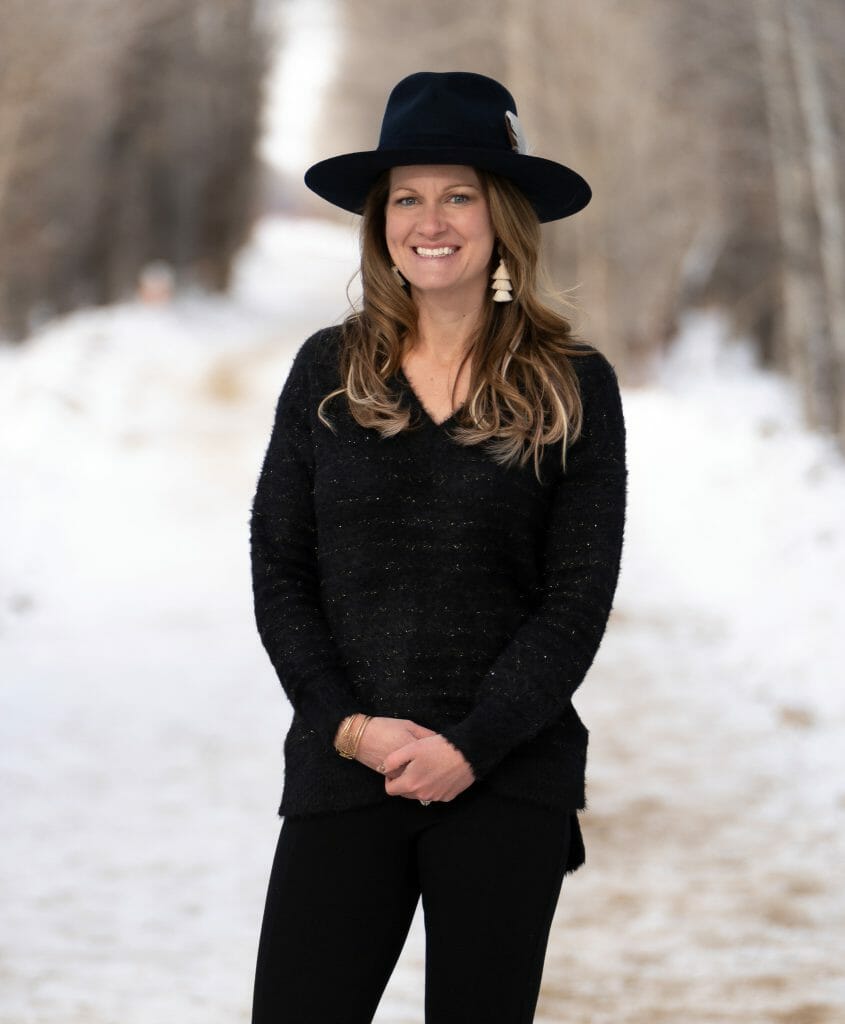 Brieonna Aljets
// BROKER ASSOCIATE/CONTRACT COORDINATOR
Brieonna grew up in real estate with her Mom as a Broker and has held many positions within the industry over the last 15+ years. These roles include: team leader, managing broker, Buyer's agent, Association Executive, and productivity coach throughout IL, TN, and CO. Currently, she holds a managing broker's license and has a degree in Education. Her passion is training and consulting; she teaches real estate school and enjoys bringing humour into any situation. Without a laugh, she's not sure anything qualifies as a success.
Brieonna and her husband moved to the Gunnison Valley in 2012 and have yet to look back. The Western Slope's lifestyle is outstanding, and it's incredible to live in a place that many people consider a vacation of a lifetime. In 2016, Brieonna and her husband, Codie, welcomed their son. At that time, family back in Illinois assumed they would be making their way back to the family roots. We all know what assuming does – they had zero intention of trekking back to IL to raise their son. What better place to raise a child than here? This lifestyle fuels his wild, fun-loving, adventurous attitude. At the ripe age of 7, he is finding a serious interest in rock climbing and is a natural. Not to mention, Codie has finally followed his lifetime passion of becoming a distinctive metal artist. The Gunnison Valley has paved the way for his pieces, including bull skulls, longhorn sheep, trout…the list goes on.
Outside of work, you can find Brieonna spending time with her family and friends. She enjoys trail running, working out, and snowboarding. In addition, who doesn't love a patio drink and chatting with friends in the warm Colorado sun? Like most Gunnison residents, she came for the winter but stayed for the phenomenal summers. Growing up in the Midwest, she is thrilled to avoid the extreme humidity that IL has to offer. Brieonna is happy to be a part of the M4 Team and looks forward to assisting clients with the buying and selling process while ensuring seamless transactions.
Testimonials
"M4 Ranch Group really brings a personal touch to the real estate market."
Testimonials
"Thank you to the team that made it happen! Appreciate you all very much."